5 Ways the Library Kept Me Sane During Quarantine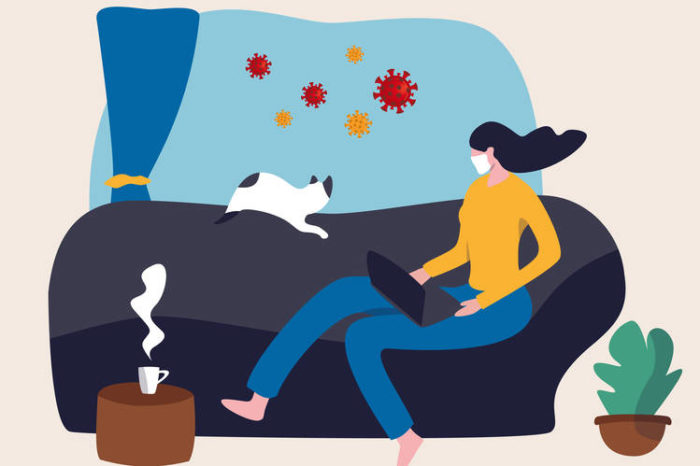 I'm not going to lie, sheltering in place was hard. My fiancé, Artie, and I (along with our boisterous cat Bolan), live in a small apartment in the Bronzeville neighborhood of Chicago and we definitely felt the minuscule square footage of our home.
I know, sheltering in place is no one's first choice, but to be safe and healthy, we did it. And the Library helped us get through it.
Meditation. Meditation. Meditation.
I've been a long-time sufferer of medical anxiety and Generalized Anxiety Disorder so it was of no surprise to myself or my family and friends that being thrown into a global pandemic would set me off. I spent a lot of nights tossing and turning in bed, only to wake up the next morning with a pit in my stomach (which I lovingly refer to as the "stomachache of fear") and I was slowly losing my mind.
Enter hoopla, flush with entertainment. Because hoopla is overflowing with different kinds of media (ebooks, eaudiobooks, music, tv, movies, etc.), I was able to find some solace with their guided meditation eaudiobooks. Here are some of my favorites: Guided Meditations for Anxiety, Positive Thinking Meditation, and Guided Meditation For Sleep. (Be on the lookout for another blog on how hoopla reintroduced movies from my youth!)
Weddings Galore!
That's right, I'm a blushing Pandemic Bride! Artie and I got engaged a week before the shelter in place went into effect, which gave me a lot of time to start planning our wedding. If you've ever met a new bride, you'll recognize that we are HUNGRY for information regarding dresses, centerpieces, venues, etc. Planning my wedding has been a bright spot in the uncertainty of Coronavirus.
With the use of my Niles-Maine library card, I was able to access Brides Magazine (for free!) through Flipster AND get plenty of crafty/DIY ideas and instructional projects through CreativeBug. I may even create these scalloped, frilly paper fans to use in my wedding.
Anti-Racist Action
George Floyd's death, along with the many other deaths of people of color in our country stirred the nation. While we sheltered at home because Artie and I are high-risk for Coronavirus, many marched down our streets, braving the pandemic and the police.
Feeling helpless at home, Kanopy offered many documentaries on the plight of Black communities across the country and how to better understand race, racism, and white privilege. I recommend I Am Not Your Negro, White Like Me: Race, Racism & White Privilege in America, and P.S I Can't Breathe.
I Just Need a Laugh
We're dealing with a lot in our country and some of us, myself included, can't stand the doom and gloom all day, every day. Sometimes, I just need a good laugh. I probably should mention that David Sedaris is my happy place and I've probably listened to him narrate the Santaland Diaries more times than I can count.
Luckily, OverDrive and the Libby App have quite the David Sedaris collection. They may not have Santaland Diaries, but Me Talk Pretty One Day, David Sedaris: Live at Carnegie Hall, and Dress Your Family in Corduroy and Denim are by far some of the greatest titles by Sedaris.
Let's Get Virtual
Being in an apartment with someone 24/7 can get a little old, and don't get me wrong, I love hanging out with my partner and my cat, but I needed some sort of entertainment that didn't include re-watching the Golden Girls on Hulu. Twice.
I am so grateful to the creative and unique way our Niles-Maine librarians offered on-demand and live virtual programs. Not only did I learn how to make a mug cake and pizza from scratch (thanks, Teen Services!), but I got to play trivia with a group of friends and strangers (shoutout to Generation U programming!) which felt almost normal.
The best part? If I miss something cool, I can always check it out online later!
I'm optimistic that the current climate will shift and things will return to semi-normal, but in the meantime, I'll still be surfing all of the online digital resources the Library has to offer. Don't forget that you can now borrow physical materials from the library with Express Checkout and No Contact Holds Pick-Up!