5 Ways to Infuse Montessori Education into Your Child's Daily Life
August 31, 2020 marks Maria Montessori's 150th birthday!
Maria Montessori's philosophy of education lives on today in Montessori schools and homes across the world. Today, thousands of educators, parents, and caregivers are remembering and celebrating Montessori's commitment to advocating for the human rights of children.
Celebrate with us by finding some new ways that you can weave the Montessori philosophy of education into your children's life at home! Montessori education goes beyond just learning ABCs and 123s — it's about more than just the physical materials — Montessori philosophy is about a whole new mindset of education.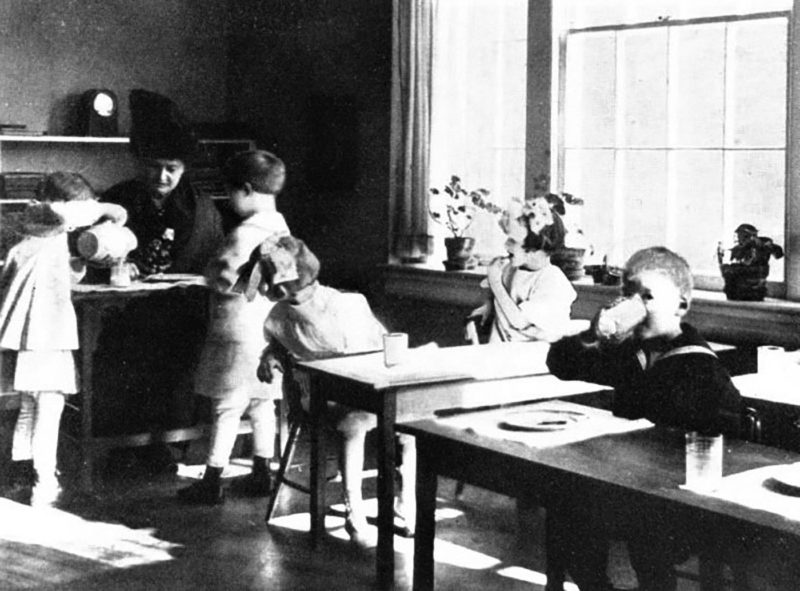 "'Help me to do it myself,' that really is the essence of Montessori education."
– Caroline Montessori, great-granddaughter of Maria Montessori
Maria Montessori believed a child's education expanded beyond the academics into practical life skills and the development of a child's independence and perseverance. Adding Montessori education to your child's life is easier than you think! Here are some simple ways to get started.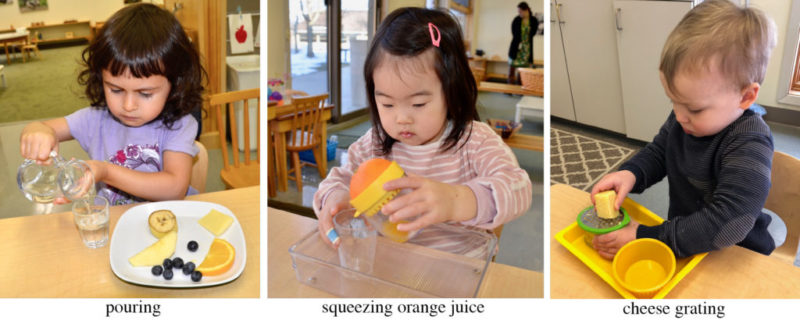 1. Encourage Children to Engage in Practical, Everyday Tasks
One of the foundations of Montessori education is the study of practical life. This exactly what it sounds like! Maria Montessori encouraged children to learn practical life skills such as folding, pouring, preparing food, and cleaning up after themselves. This is the best way to teach children how to care for and respect the environment around them.
Mindset is important here because Montessori never wanted to inadvertently teach children that "chores" are negative experiences that are unenjoyable, even though as adults we feel this way sometimes. Contrary to popular belief, children are NOT born naturally disliking chores. If you sit back and watch closely, a toddler may become engrossed in wiping down a table after they spill their milk or peeling a clementine all by themselves. This is Montessori education!
A child engaged in practical life experiences like these is learning perseverance, building fine and gross motor skills, and developing independence. You can encourage this behavior by saying things like, "it is so helpful when you do that!" or "you did it all by yourself!"
Examples of practical life activities your child can do at home:
Spreading nut butter on toast
Cleaning up after a spill
Folding laundry together
Pouring their own drink from a small pitcher
Learning to wash dishes
Watering plants
2. Observe Your Child
"Never help a child with a task at which he feels he can succeed."
– Maria Montessori
This may be the simplest thing on this list, but the hardest to do. When your child struggles with a task, your first instinct is to help them, right? This is not always the right answer in Montessori philosophy. Sometimes sitting and watching your child struggle and work through a problem on their own can be the best "help" you can give them. Your child will build perseverance, independence, and patience from your silence.
Sometimes your child may ask for help, and then you can gently offer a small amount of assistance. For example, you may get the peel started on a clementine or banana or encourage a child to look more closely at the shape of a puzzle piece they're struggling with. Try your best not to do fully do the task for the child. If the child cannot do the task, perhaps revisit it another day, if possible. Remember, completely mastering any task takes time, and with that, patience!
Observing also goes hand in hand with identifying your child's interests. Maria Montessori encouraged adults to "follow the child." For example, if you notice your child loves pouring water out of their cup, give them more productive opportunities to engage in this interest. Set up activities where they can pour water back and forth, or even other medias like sand or beads, in and out of different containers and jugs.
3. Grace and Courtesy
Grace and courtesy are other foundational pieces of Montessori education. Teaching these skills isn't always looked as traditional "education" but they are two concepts that go hand-in-hand in becoming a functional human being! This is why Maria Montessori spent so much time helping children understand these concepts.
Here are some ideas, from the blog Montessori in Real Life, on how you can help your child develop the skills of grace and courtesy:
4. Embrace Montessori Materials – On a Budget
"Discipline is born when the child concentrates his attention on some object that attracts him and which provides him not only with a useful exercise but with a control of error. Thanks to these exercises … the child becomes calm, radiantly happy, busy, forgetful of himself and, in consequence, indifferent to prizes or material rewards."
– Maria Montessori in The Absorbent Mind
Montessori materials are well-known and respected for their inherent qualities that help children teach themselves. Part of what makes them so effective in engaging children is that they require little to no intervention from an adult. Many Montessori materials embrace the concept of control of error. Essentially, control of error means that a material allows the child to correct themselves vs. having to ask for help from an adult.
Here are some ideas for Montessori inspired materials you can make at home:
5. Give Your Child Opportunities to Practice Independence
Many people have believed the false idea that Montessori education is a "free for all" in which children do whatever they want. I can see how to some this may seem evident. However, if you look closely, you'll see that children in a Montessori environment actually have what is called freedom within limits.
As an adult, you have the power to set the limits and boundaries of any situation. Does this make you the "bad guy"? Absolutely not! This makes you the "caring guy" because you're providing your child with the space to be independent, while still helping them feel safe and in control.
From the blog Montessori in Real Life, here are some practical ways you can give your children freedom within limits:
Limited but carefully selected toys and materials on her shelf
A dinner plate with several foods but no alternatives after the fact
Two pairs of shoes or coats to choose from
Options to choose the sequence of events rather than the event itself (e.g. brush teeth or bathtime first, but both are happening either way)
Option to clean up a mess independently or together
I hope you enjoy these ideas for incorporating Maria Montessori's educational philosophy into your child's life at home!
For further reading on Montessori education, check out these great books in our library collection.