Library Wins Prestigious Marketing Award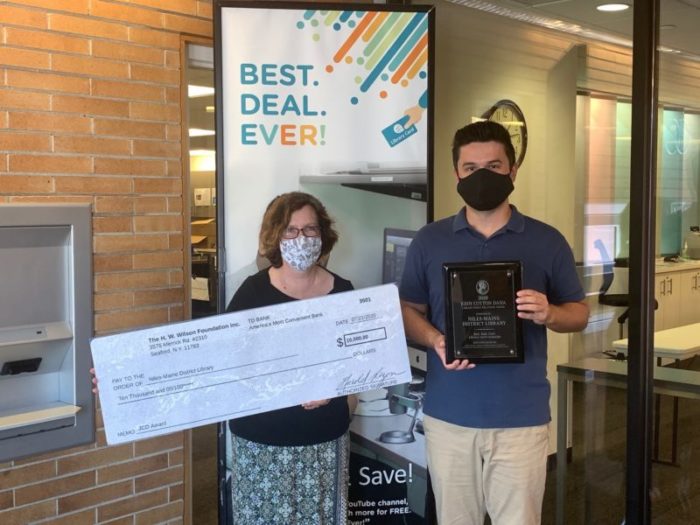 The Niles-Maine District Library is a recipient of the American Library Association's John Cotton Dana Award for excellence in library public relations and strategic communication. The award recognized the Library's Best. Deal. Ever! library card campaign and was accompanied by a $10,000 grant.
"I'm proud of the Public Relations and Marketing team who deliver highly professional results on a shoestring," said Executive Director, Susan Dove Lempke.
The Best. Deal. Ever! campaign was developed to increase the number of new library cards. The campaign lasted sixteen-months launching during Library Card Sign Up Month in September 2018 and ending in December 2019. The campaign highlighted the benefits of using a Niles-Maine library card to save money. Over the duration of the campaign the Library observed a 12.53% increase in the rate of new library card sign ups over the baseline period from one year earlier. The Library also launched the Show Your Card. Get a Deal! program where local businesses offer exclusive deals for cardholders. Some of the businesses include Superdawg, Foss Swim School, and Dear Franks.
"We're happy that residents who never had a Niles-Maine library card before signed up after the launch of the campaign," said Public Relations and Marketing Supervisor, Sasha Vasilic. "From the feedback we heard, residents really liked being able to access online resources and streaming platforms with their Niles-Maine library card as well as the deals at local businesses."
There were eight recipients of the John Cotton Dana Award of whom received a $10,000 grant provided by the H.W. Wilson Foundation and EBSCO, and managed by the Library Leadership and Management Association division of the American Library Association.